A Non-verbal performance integrating Korean traditional Samulnori rhythm
with comic and drama in the kitchen! Audiences of all ages and nationalities can enjoy! Everyone is welcome!

NON VERBAL PERFORMANCE
Since our first performance in 1997 at the Edinburg Fringe Festival NANTA received it's first award for best performance. This now world famous nonverbal performance 8,100,000 people the largest audiences in Korean history. Since its first debut NANTA performance has been on the road of success around the world. In 2004 NANTA finally made an appearance on New York's Broadway. This opportunity opened up new doors for Korean culture and performances. Now about 7,000,000 people around the world are enjoying NANTA's spectacular performances. NANTA performances can also be seen at three different theater locations within Korea. NANTA also received an award for Best Urban program in 2009 and is also being highly recommended by tourist and locals alike. "This is a must see performance" As 750,000 foreign visitors per year come to Korea to enjoy NANTA and Korean culture.
NON-VERBAL
NANTA is a totally universal nonverbal performance. Since it's presented through music and motions, there is no language barrier. Therefore, NANTA can be enjoyed by people from all around the world! This is a strong point which belongs to NANTA to reach out internationally.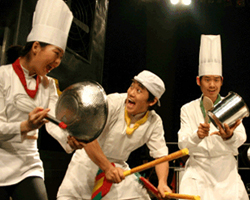 Traditional Korean Beat
NANTA combines rhythms from Korean folk music with modern musical forms to create an experience very unique but familiar to the international audience. As an ameliorated mixture between Korean traditional rhythm and modern audio system, NANTA became a super-rookie in the world culture market.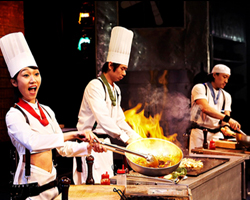 DRAMA
Many nonverbal performances seem to be dull due to the repeat of only rhythms and beats and lack excitement in suspension. NANTA overcomes this drawback by combining a storyline with various comic scenes set in a kitchen as its background. Without any verbal scripts, NANTA follows the plots, and it made NANTA well organized.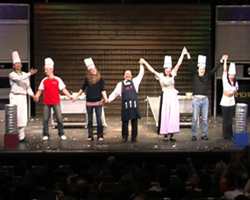 Audience Participation
To double the fun, all audience can participate in the show and be the bride and groom in a traditional Korean wedding ceremony, compete in piling up dumplings, and interact with the performers. You can play the rhythm on the stage and make the other audience more excited. You become a part of the show! This is a unique but charming point, which only belongs to NANTA.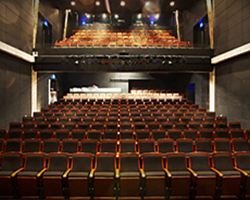 NANTA Theaters
NANTA firmly took its position as an absolute essential attraction for the tourists from all over the world. Since it's very first overseas open run theater on Broadway, NANTA theatre has been expanded to the world and currently run 4 exclusive theatres(Myeongdong, Hongdae, Jeju and Bangkok).
Let's plan a Performance that will work around the world.
The good things about Korea can also be good things for the world.

Birth of NANTA
NANTA was born with a goal to reach Broadway - the Mecca of performance
From the planning stage, NANTA was designed to target the global audience. The goal of PMC was to produce a show not only for the domestic market but also for the global market which was like an unexplored land full of opportunities with no limits. One of our most determined goals was to advance Broadway where worldwide prestigious art performances are going on. So NANTA was planned, produced, and born with a goal to reach Broadway - the Mecca of world performances and dreams.

Our Long but Meaningful Days of Preparation
Non-Verbal performance with Rhythm of Samullori
As NANTA has aimed the world industry market, NANTA has been evolved and improved continuously on the basis of 'Non-Verbal Performance with Rhythm of Samullori.' Great story seasoned with humor(world-wide source of communication through the world) was formed, 5 characters of own flavors were created, and kitchen was renovated into a boundless space with exploding sounds and power.

Foundation of NANTA Theaters
Introduction of a new type of show performance by opening NANTA Theater
NANTA introduced a new type of show performance by opening the special NANTA Theater for a single show in Jeong Dong in July, 2000, which was the very first single performance theater in Korea, after reorganization of a new long-term goal. Soon, we opened another one in Gangnam of a scale with Jeong Dong Theater. In 2002. At last, we landed on the Broadway, U.S. in 2004. We opened a NANTA Theater there and performed NANTA on the stage more than 400 times. We performed 10,000 times in NANTA Theater in July 2009. Recently, we opened a new Myeong Dong NANTA Theater in Myeong Dong. Myeong Dong NANTA Theater has 386 seats and provides more chances to show NANTA to more people.
20th Anniversary of Nanta
Tour of 57 countries and 310 cities
Jeju Hotel Nanta and Nanta theater opened
Nanta theater opened in Guangzhou
Nanta breaks record of 10,000,000 audiences

Opened a Chungjeongno NANTA Theater
Opened a Bangkok NANTA Theater
Hitting 8 million audiences all over the world
15th Anniversary of Nanta
Hitting 7 million audiences all over the world
Achieved 10,000 times of performing NANTA at NANTA Theater
Opened a Hong Dae NANTA Theater
10th Anniversary of Nanta
12th Anniversary of Nanta
Opened a Myeong Dong NANTA Theater

Awarded the cultural section in Republic of Korea Culture and Art Award.
Song Seung-Whan, PMC's President, awarded 'the Person of Merit' in Seoul Tourism Award.
Gathered total over 4,000,000 visitors for NANTA
Moved the location of Jeong Dong NANTA Theater to Jeong Dong Cinema 1.
Opened a Myeong Dong NANTA Theater
10th Anniversary of Nanta
Gathered 1,000,000 non-Korea visitors and total 3,000,000 visitors (Including non-Korean visitors)
Gathered total over 2,000,000 visitors
Performed overall 400 times at Off- Broadway NANTA Theater

Opened a Off-broadway NANTA Theater and played a preview (Minetta Lane Theater)
Perfomed at broadway, New York for the first in Asia (New Victoria Theater)
Reopened the NANTA Theater in Jeong Dong A&C (Aggrandized)
Choesn as the best attraction in Seoul for tourists from abroad
Study tourists from China began to visit
Performed at the opening ceremony of the 14th Asian Game
Opened a Gangnam NANTA Theater
Gathered total over 1,000,000 visitors
Chosen as a World-Class Korean Product by the Ministry of Commerce, Industry and Energy (now Ministry of Knowledge and Economy)
Visited by Mikhail Sergeevich Gorbachev

Awarded the Grand Prix at Korea Tourism Award by Korea Tourism Organization
Certified as a Venture Company of performance and culture Business by the Small and Medium Business Administration
Opened NANTA culture Experience Program (Study tourists from Japan began to visit.)
Participated in Edinbourgh Fastival. All shows sold out.
Awarded Special Prize at the 4th Korea Musical Awards
Made a debut at Home ArtHall
NANTA! The First Asian Theatre Production played on Broadway.
We evaluate NANTA best at three points: It was the first show played On Broadway from Asia. Second, we knocked the door toward the world market and made it successfully. Third, we introduced the potential we have as a Korean show to all over the world.
NANTA is still on stage in Theaters. We had our 1,000,000th visitor from abroad in Sept. 2006. We are now preparing the second phase, which leads to 20th anniversary of NANTA. Now the world's attention is on NANTA.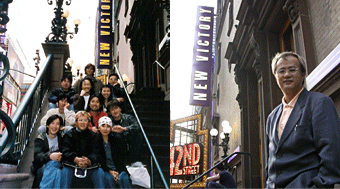 New Victory Theater
September 22, 2003 ~ October 19,2003
(As a season opening show open for 4 weeks)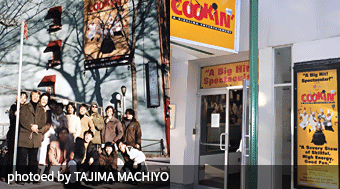 Minetta Lane Theater
Febrary 20, 2004~ August 7,2005
NANTA, World-based fun beyond Korea
NANTA set a record for attracting the biggest number of visitors in Korea. Soon after it's performance at Endinburgh Festival in 1999, it was exalted by both the critics and the audience. Since then, it has walked on the road of success around the world, and finally in Feb. 2004, it arrived on Broadway, New York, as the first Asian performance. We have met audience in 318 cities from 58 countries through 46,169 performances.